OneTrust and CookiePro (the free version of OneTrust) are used to manage cookie consent. We include this integration as part of our Site set up. If, however, you would prefer to use another solution please let your account manager know.
All you need to do is to create your account and follow the instructions to set up the framework templates you need for your site. Once you are done you can let us know and we will integrate it with your site.
Setting up CookiePro Account
Set up CookiePro by creating an account here, follow the wizard to add your site and complete a scan of the tracking your site conducts.

Once this is set up send us the full script which can be found under scripts / Production Scripts. We will then add this to your GTM container.
FAQ's
How do I know that all our cookies have been categorised?
For OneTrust / Cookiepro to be able to control the cookies they need to be identified and categorised. To check this once the scan is complete go to "Categorizations" and check that all cookies have been categorised. If they have not, then go ahead and manually categorise them.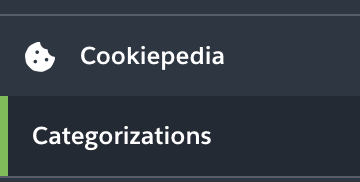 Which domain should be scanned before the site is live?
If using CookiePro, please make sure to use the live domain (the URL once your site is live) when you add the site to CookiePro to be scanned. Additional domains require upgrading to a paid plan (this is obviously not a problem, just an advisory that it will incur additional costs).
Cookie categorisations should be checked periodically/whenever you begin working with a new partner/service.
Are there stats available to check our user interaction with Cookiepro?
Yes, there are but it needs to be enabled within the geolocation rules. If this is not possible during set up, go back and enable it and re-publish the script.
Helpful Links:
How to style your banner: https://community.cookiepro.com/s/article/UUID-c20d10e3-3b38-77ab-61c3-71e150feac61
Read more about cookie compliance: https://community.cookiepro.com/s/topic/0TO1Q000000bCetWAE/cookie-compliance